As a manufacturer of industrial computer enclosures used across Europe, June's 'Brexit' vote will certainly raise challenges for Armagard and the wider manufacturing industry.
However, let's not forget the opportunities that leaving the European Union (EU) will lead to for Britain. Three months on, here are Armagard's reasons why a vote Leave result isn't all bad…
What's Armagard's Outlook on Leaving the Europen Union?
Armagard's Managing Director, Mark Neal.
Laying Armagard's cards on the table, the management team voted to remain. As news broke of the 'Leave' vote, there was an initial sense of shock as the magnitude of the result began to sink in. However, as the dust settled, we asked the question – will this really stop us doing business in Europe? The answer is a defiant, no.
Armagard is international, reflected by the international staff we employ from many European nations, and our European partners and resellers that we do business with. That doesn't just stop because of 'Brexit.' In fact, cutting ties with the EU could enhance Britain's ability to do business on the continent and beyond.
Yes, there are challenges ahead, but having survived two recessions, discovering new business opportunities along the way, we know that 'a vote to leave the EU is not a vote to cease doing business in Europe.'
OK, Prime Minister David Cameron resigned, and Boris Johnson ruled himself out of the running to succeed him. Yes, Britain was overtaken by France and now stands as the world's sixth largest economy after the pound plummeted to its weakest level since the 1980s. Cue the 'doom and gloom' stories from Britain's manufacturing sector.
But maybe, just maybe, Britain's manufacturers are missing the bigger picture here.
Watch Armagard CEO, Mark Neal's interview on Brexit
Granted, the manufacturing industry is not alone in bemoaning the outcome of the vote, Britain's financial services industry would try to convince you that the apocalypse had occurred, spearheaded by the four horsemen – Gove, Johnson, Patel and Stuart. Nigel Farage would also feature somewhere.
What are the positives of Exiting the EU for UK manufacturing?
There's a lot of negative commentary and insight coming out of the manufacturing sector, claiming that exiting the EU will lead to manufacturing's demise. We understand the reasoning and the logic behind it. What we've known for so long has suddenly descended into the unknown.
However, it's done – that's the reality. Initially, Armagard did a lot of cursing about the situation, just to emphasise that we're not being blasé about this scenario. Like many, who didn't think this would happen, it caught us off guard.
Yet, worry and confusion have quickly been replaced by rolling up our sleeves and looking at this from a whole new angle.
A recent report published by the Guardian caught Armagard's interest. Two of Britain's biggest manufacturers [and Brexit backers], JCB and Dyson, argued that in order for British manufacturing to survive: "The UK has to expose itself to international competition and needs to focus on selling into the fast growing markets of the future."
JCB's and Dyson's argument does hold weight. That's all well and good for JCB and Dyson, you might say. What about the average manufacturing firm? It could be argued that by remaining 'protected' by the comforts of the EU, smaller manufacturing firms have become too focused on the short-term and hitting next quarter's sales targets.
However, even for the small to medium-scale manufacturing enterprises, leaving the EU represents an opportunity to better position themselves for the long-term, even finding better investment and trade deals than they ever could in Europe alone.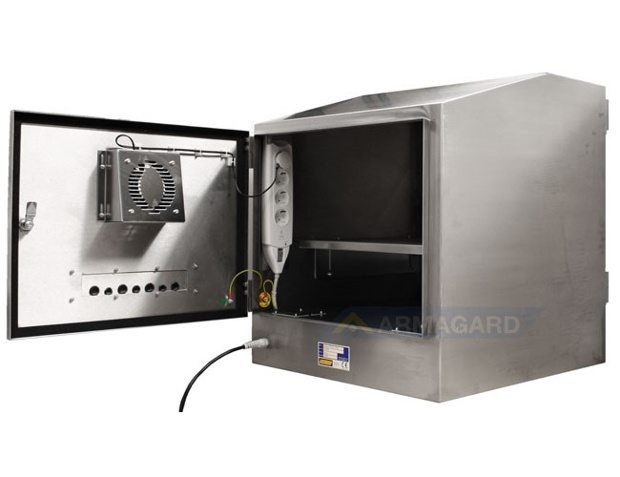 Additionally, it could be argued that membership of the EU has stifled Britain's productivity.
The goal of many manufacturing enterprises is to improve manufacturing productivity, but with too much focus given to competing in the single market, non-EU countries have capitalised and surged ahead of many EU member states in the manufacturing stakes.

China, India, Japan, Taiwan, Mexico and South Korea are just a few of the nations that have 'raised their manufacturing game in recent years,' selling more and more into Europe.
Dyson and JCB argue that for Britain to see an improvement in manufacturing productivity, UK manufacturers are required to compete internationally, something that has been severely overlooked. However, being outside of the EU means that the UK is not confined to competing purely on the continent, but globally.
Export potential
Equally positive is that Britain's export potential outside of the EU stands to thrive. Did you know? Thirty-six non-EU countries have witnessed faster export growth than us into the single market. This serves as a reminder that the UK doesn't necessarily have to be a part of the single market in order to sell into it.
From Armagard's perspective, it's good news that the export market in Europe will still bear fruit for the UK despite the Leave vote. It's equally good news for some of our export partners including Export Worldwide – an export marketing channel that specialises in helping small to medium companies increase leads and sales.
The pragmatic conclusion
Armagard acknowledges that the EU is currently the UK's largest trading partner. In fact, over 50% of UK exports go to Europe. Four of the country's six biggest trading partners happen to be EU member states, with the two non-EU nations being the US and China.
Currently, the EU also boasts 23% of Gross Domestic Product (GDP), while the UK has only 3.5%. That said, because EU trade agreements are notoriously slow, difficult to negotiate and often result in compromise, Britain's reputation as a trade leader could mean that the country will fare better by 'going it alone'.
The bigger questions following the 'Brexit' vote concern whether UK manufacturing will face further regulations and what will happen to the industry as a result of those regulations. At this moment in time, no one knows.
What can be concluded is that British manufacturing can now adopt a global vision as opposed to a vision regulated by Europe. This alone is grounds for positivity and opens doors to new opportunities for British manufacturing to become a dominant force globally.
In Armagard's view, we would have been better staying in the EU but this is no longer an option and we now need to maximise the opportunities that still exist. Therefore, UK manufacturing will need to step up its productivity.